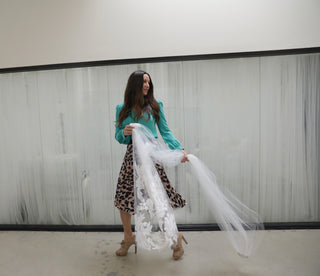 About Erin Cole
A California native, Erin Cole is guided in her inspirations by her mother's passion for art and painting and her grandmother's talent for sewing and design. It was inevitable, she believes, that she would pursue an occupation that fuses creativity with fashion. Erin's delicate designs blend whimsical, modern beading with stunning lines and only the finest fabrics. Her manifesto is, "I believe it should be incredible, or it shouldn't be at all."

Erin began her career in the bridal industry as a stylist at the age of 23. Almost immediately, she recognized the need for elegant, upmarket accessories and began designing her own line of veils, sashes, tiaras and jewelry. In 2003, she opened the Erin Cole Couture Bridal Salon in Costa Mesa, and in 2016 she created her own line of gowns. Today her design house is located in the heart of the surf industry, where her collections are a true reflection of the classic California lifestyle: refined, organic, fashion-forward, and featuring the perfect amount of sparkle and shine. While nothing makes her happier than outfitting a bride for her special day, Cole insists her designs have a shelf-life that's light years beyond a single afternoon or evening. "I'm thrilled when a bride tells me she wore her accessories again for her anniversary or another special event," Cole says. "These pieces definitely aren't meant to be boxed up and thrown in a trunk. I say wear them every chance you get!"

On October 1st, 2018 Erin Cole released her heartfelt yet difficult childhood memoir, The Size of Everything. Cole's hope is that in sharing her often heartbreaking, sometimes hilarious past, she can help others overcome their own obstacles, move through painful patterns and go on to live the rich and rewarding life she believes we all deserve.
About Matt James
Matthew Christopher Sobaski, a renowned couture designer, is celebrated for his bridal line and Red Carpet Collection. Raised on an Iowa farm, Matthew's early passion for sketching and sewing led him to study fashion design before moving to New York City to chase his dreams. After gaining experience at Demetrios, One of a Kind Bridal, and Galina, he launched his own label in 2002, offering custom, made-to-order gowns that feature modern classic glamour, unique lace, and elegant draping.
The Matthew Christopher label quickly became a sought-after brand for high-end retailers. Matthew opened his flagship salon in New York City, providing clients with an upscale, private experience. His designs were in over sixty of the largest stores across the US and Canada, including Nordstrom Wedding Suites and Bridals By Lori of "Say Yes to the Dress: Atlanta", catering to all silhouettes for every woman.
Matthew has been consistently recognized for his contributions to the bridal industry and is in high demand with Hollywood producers and celebrities. His gowns have been featured in movies, TV shows, and on the red carpet. Notable stars such as Carli Lloyd, Kelli O'Hara, Kathy Najimy, Kristin Chenoweth, Julie Lake, and Megan Hilty have all donned his designs for various events and appearances.